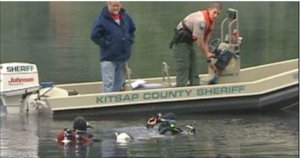 Seven South Kitsap Divers helped locate the body of Kristopher Scott Foisy, a 20-year-old Silverdale man who drowned at Island Lake Park, Monday.
The divers found his body around 9 a.m. under 14 feet of water about 80 feet from shore, Tuesday.
The divers got word, around 10:30 p.m. Monday, that there had been a drowning in the waters of Island Lake Park and responded right away.
They searched through the murky water until around 2 a.m. the next day.
"The lake itself is really dirty, visibility is very poor this time of year," said Jim Hightower, the vice president and training director for Underwater Search and Rescue Volunteers of Kitsap County, the group that eventually located the body."The weeds are starting to grow three or four feet tall of the bottom, and as you search, you swim, you kick up more mud than is already there."
It got to the point that the divers "couldn't see anything," said Hightower, so they called off the search until the next morning.
They resumed the search around 6 a.m., and it took about two hours to recover the body. The search was easier the second day, Hightower said, because a lot of the weeds had been cleared, and the mud had settled.
"(Diving for a body) can be really creepy," said Hightower, "but that's what we do training for: to learn to be relaxed and know what you're looking for."
And in the end, it's worthwhile, he said.
"The end-feeling is the reward of finding the individual to help the family find closure," said Hightower. "We get satisfaction returning the victim to their families, and the family appreciates it."
Kitsap County Sheriff's deputies are still unsure what caused Foisy's death.
Preliminary reports indicate that he and two of his friends decided to swim, clothed, in the lake, after the park had closed for the night.
Foisey allegedly said that he was having trouble, and the other two men swam out to him.
But, by then, they couldn't find him.
The sounds of struggling allegedly stopped, and his friends to shore and called 911.
Kitsap County Sheriff's Deputies don't believe, at this point, that criminal activity was involved, but the Kitsap County Coroner will make a determination of the cause and manner of his death, following an autopsy.