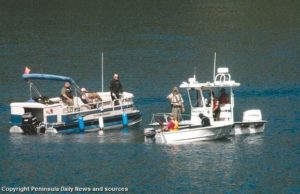 July 18. 2016 7:04PM
PORT ANGELES –– Divers on Sunday afternoon recovered the body of 61-year-old Wales resident Stephen Thomas Turner, who reportedly drowned in Lake Sutherland on Friday.
Crews from surrounding counties used sonar equipment provided by the state to locate Turner's body about 85 feet deep, near the bottom of the lake shortly after 2 p.m., said Clallam County Undersheriff Ron Cameron.
"Recovery has been made," he said at about 3 p.m. "We're with the family now."
Mike DeRousie, Clallam County Fire District No. 2 assistant chief said he hopes the recovery of Turner's body provides at least some closure for his loved ones.
A dive team from Mason County used the sonar equipment to quickly locate Turner, Cameron said.
Search and rescue teams from Clallam and surrounding counties began the search for Turner on Friday.
Turner was at Lake Sutherland while visiting his girlfriend, who lives in Clallam County, when he went swimming Friday.
Turner was about 150 yards south of the shoreline at Critter Crossing Road on the U.S. Highway 101 side of the lake west of Port Angeles when he started yelling for help.
His girlfriend's daughter and a Clallam Fire District No. 2 paramedic who was already at the lake paddled out in kayaks to try to save the man.
Throughout the search, residents nearby offered help to divers and law enforcement, DeRousie said. They provided food for those on scene and offered places to stay for personnel from out of county, he said.
Assisting in the search were members of Fire District No. 2, the Sheriff's Office, Lower Elwha Klallam tribal police and the state Department of Fish and Wildlife.
The Sheriff's Office marine unit also launched a lake boat, and a dive team from Kitsap County responded to assist Friday evening.
Underwater Search & Rescue Volunteers of Kitsap County then searched the lake three times Saturday but were unsuccessful in locating Turner's body.
Saturday's search ended at about 3:50 p.m.